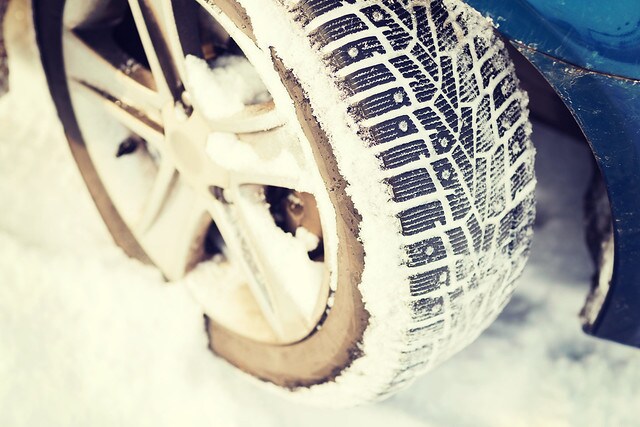 As the weather gets colder, it's important to begin thinking about prepping your vehicle for winter. One of the most essential things you can do as a driver is to switch out your vehicle's tires for winter tires. Here's why winter tires are important.
Increased Versatility
While many drivers think that all-season tires might be more versatile in winter, they're actually not. That's because instead of staying flexible, the rubber on summer or all-season tires can become hardened during cold temperatures. Winter tires take this into consideration by sporting a unique rubber that is meant to stay flexible even in both warmer temperatures and freezing temperatures.
Improved Snow Handling
 Handling your vehicle on winter roads can be tricky, but winter tires can help. Winter tires have increased traction, and their unique rubber makes it easier to keep control on both snowy and icy roads. Whether you're navigating a few inches of snow or a slick sheet of ice, they'll be able to handle both better than your vehicle's standard tires.
Extending Tire Life
Swapping out your vehicle's tires for different seasons means that the tire life of both types of tires will be extended. Since non-winter tires work extra hard during the winter, keeping them on would put them through more wear and tear. Giving them a break by using your winter tires means that your all-season or summer tires will last even longer.
Improved Safety System
Your vehicle's safety systems work hard to keep you safe. However, without the proper tires, it can be harder for your safety systems to do their job. Features like antilock brakes and electronic brakeforce distribution need well-functioning tires to work to their full potential. Winter tires help your vehicle's braking systems, traction systems, and stability systems function properly.
Ideal All-Wheel Drive Performance
Vehicles equipped with all-wheel drive have an advantage on winter roads - but they'll have an even larger advantage when equipped with winter tires. With winter tires, your vehicle's all-wheel drive system can boast maximum performance due to the tires' increased traction.
Pick up a set of winter tires when you visit Mike Raisor Ford. 
Hours
Monday

9:00 AM - 7:00 PM

Tuesday

9:00 AM - 6:00 PM

Wednesday

9:00 AM - 7:00 PM

Thursday

9:00 AM - 7:00 PM

Friday

9:00 AM - 6:00 PM

Saturday

9:00 AM - 6:00 PM

Sunday

Closed
Make an Inquiry